Braking System
Figure 4 with Table 4, and Figure 5 with Table 5 show two suggested braking systems. The concept behind a braking system is simple. A band is wrapped around o brake drum. To stop the drum from turning, simply tighten the bond around the drum and friction will slow down and eventually stop the drum from turning. A braking system allows you to tighten the bond.
With a live axle, the brake drum, like the the wheel, is fixed to the axle and the whole axle assembly rotates. Only one brake bond is necessary with a live axle, but two brakes provide more friction to stop the go-kart, and also cause less wear on the brakes.
Figure 4 shows a two-brake system, but the mechanism connecting the two brakes must be built into the frame.
A fixed axle allows each wheel to turn independently of the axle, so the broke must be secured to the wheel. Again, one broke can be used (Figure 5), but the go-kart may pull toward the same wheel to which the brake is attached. If two brakes are used the go-kart will remain straight when stopping, but be sure both brakes tighten at the same rate or the go-kart may pull to one side.
To make sure the brakes release when you take your foot off the pedal, a spring system can be used. Again, Figure 4 shows one assembly that works, but many others are possible. An extension spring is attached to the brake cable/rod, either directly or to a firmly connected part on the cable/rod. The other end of the spring needs to be fixed to the frame so it remains immobile. The spring should work against the braking force you provide. If the cable/rod pulls the broke forward to stop, the fixed end of the spring should be towards the back, thus pulling the cable/rod backwards. Figure 5 shows a simpler way to accomplish the some task, and the same principle holds -- the spring should work against the braking force. A spring system on the brakes is not required, but it does prevent premature broke wear by loosening the broke band around the drum when the foot pedal is released.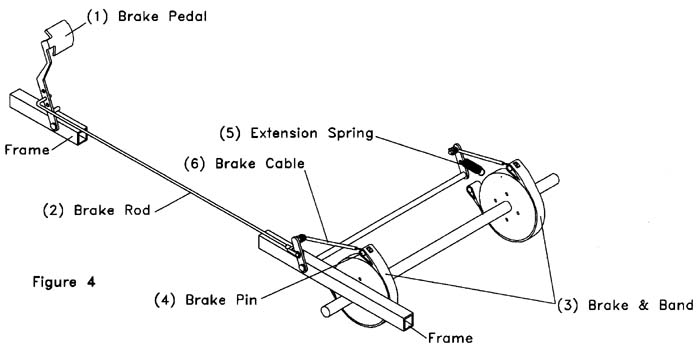 | | | | |
| --- | --- | --- | --- |
| Dia.# | Item # | Description | Qty. |
| 1 | 13821 | Brake Pedal | 1 |
| 2 | 13822 | Brake Control Rod w/ 1/4" Clevis | 1 |
| 3 | 13662 | 4" Brake w/ Band, 1" Bore | 2 |
| 4 | 13663 | Brake Cable Pin w/ Set Screw | 2 |
| 5 | NPN | Extension Spring | 1 |
| 6 | 1384 | Brake Cable w/ Barrel End | 2 |
NPN = No Part Number
Table 4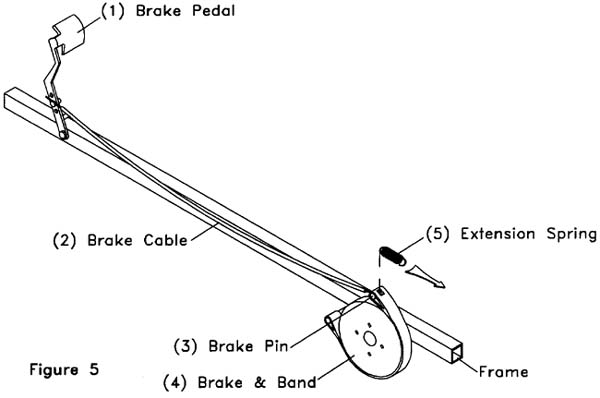 | | | | |
| --- | --- | --- | --- |
| Dia.# | Item # | Description | Qty. |
| 1 | 13821 | Brake Pedal | 1 |
| 2 | 1384 | Brake Cable w/ Barrel End | 1 |
| 3 | 13663 | Brake Cable Pin w/ Set Screw | 1 |
| 4 | 1366 | 4" Brake w/ Band, 4-Hole | 1 |
| 5 | NPN | Extension Spring | 1 |
NPN = No Part Number
Table 5
|| Main Home Page || Home Page || Rear Wheel/Drive Assembly || Front Wheel/Steering Assembly || Braking System ||
|| Throttle System || Frame || Engine Mount || Seat || Material List || Assembly Instructions || Before Using ||
|| Speed Calculator ||
© 2000 BuildYourOwnGoKart.com